From the big picture to the smallest details, we deliver branding and marketing strategies and creative solutions that add value, increase revenue and enhance the customer experience.
We take an integrated and strategic approach to marketing communication, carefully creating brand interactions that clearly and honestly communicate the essence, personality and values of a brand. With the vast array of choices available, an increasingly overwhelmed consumer has more decisions to make each day and less time available to make them. Brands that are able to communicate who they are, what they stand for and what their products will deliver break through the clutter.
"Every company or product has something unique to offer, it's a matter of pinpointing that special quality and finding the right way to communicate it. As branding experts, we look at market trends to determine what will stand out and resonate with the audience that companies are trying to reach."
—Julie Koch-Beinke, Partner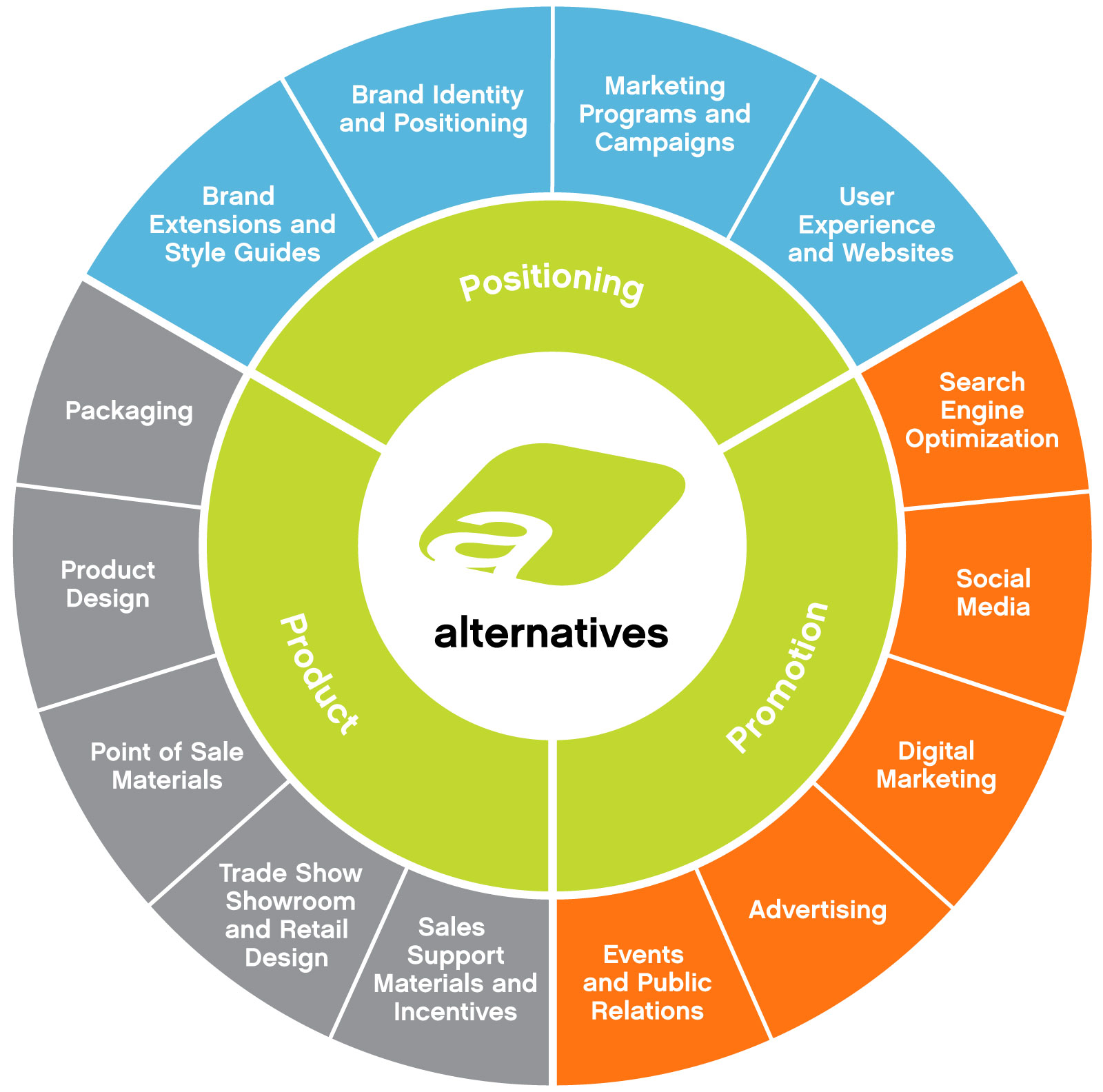 We utilize all available tools shown in the capabilities circle to develop and implement creative strategies and visual solutions for business, brand and product success.
we build brands
alternatives works with clients to maximize brand image across all consumer touch points.
we believe that all brands, large or small, established or start-up, require relevant positioning, a compelling personality, a cohesive look and a focused strategy to build awareness and fuel growth.
we capture consumers attention
alternatives works with clients to increase brand visibility.
we take a strategic approach in the development of product, packaging, messaging and point-of-sale materials that standout and drive sales
we reach your audience
alternatives works with clients to develop a promotional strategy that maintains brand integrity while increasing ROI.
through integrated marketing communications, traditional, digital or social media, we can create the right mix to reach your audience and goals.
Contact us to learn more about our services and how we can help you with your project needs.
Alternatives is proud to be a Certified Woman-Owned Business and is a US Federal Government GSA Approved contractor for Web Based Marketing Services, Graphic Design Services, Marketing Consulting Services and Order-Level Materials (OLMs).